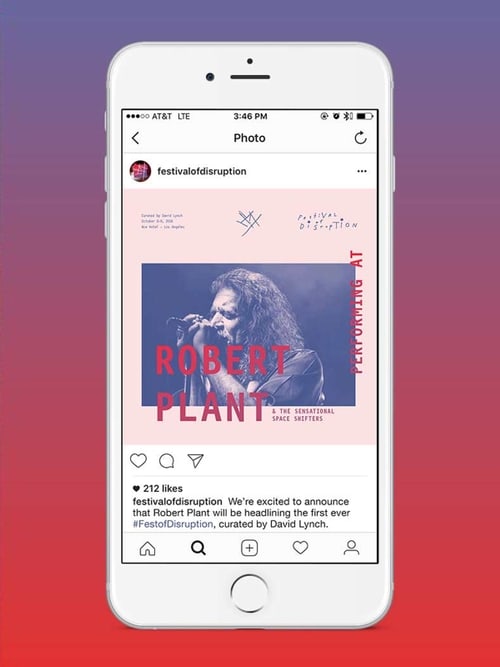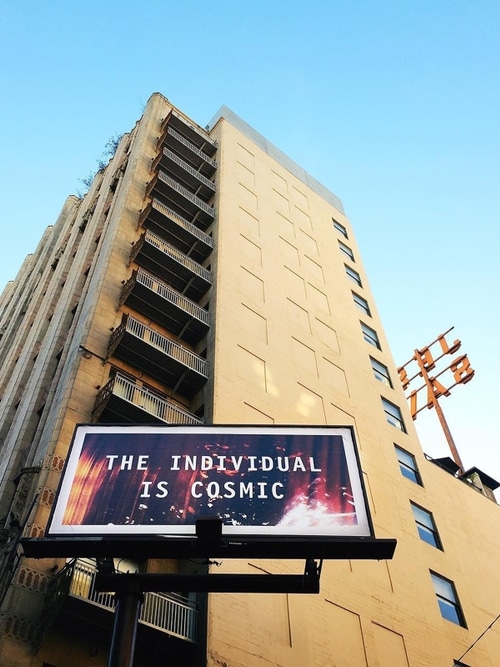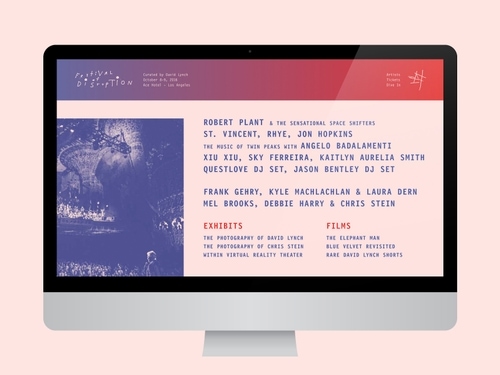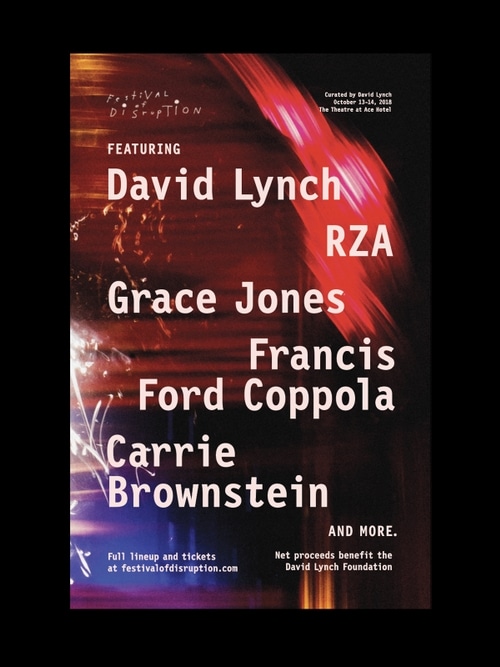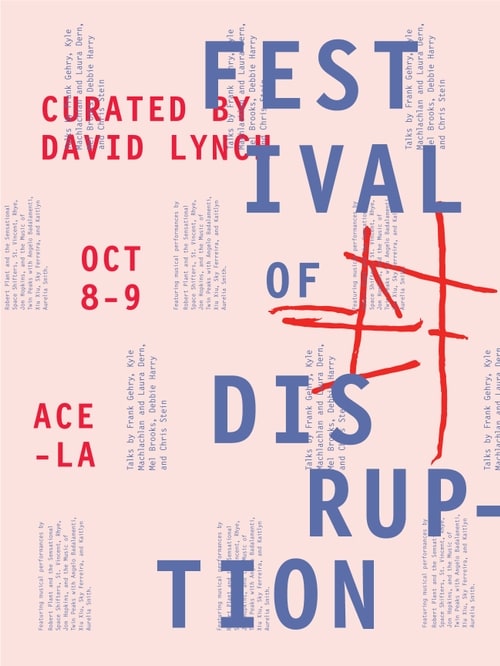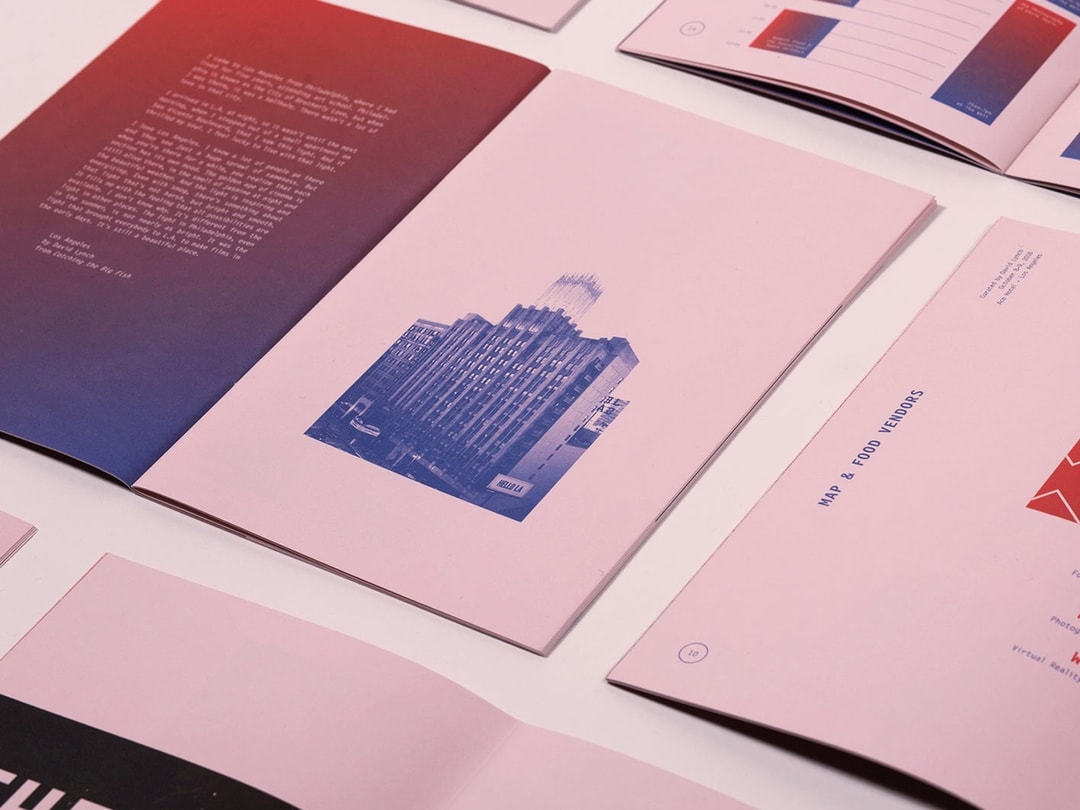 David Lynch's Festival of Disruption
Festival of Disruption
is a multi-media music and arts event curated by David Lynch with an entirely charitable mission. The two-day festival took place in downtown Los Angeles in the Fall and New York City in the Spring from 2016-2019.
The Festival takes its name from one of Lynch's favorite quotes, attributed to the founder of Transcendental Meditation, Maharishi Mahesh Yogi who said, "life is a festival of disruption." We brought this quote to life by inviting Lynch's favorite musicians, artists, and cultural influencers to create a mysterious and beautiful world complete with incredible performances, talks, screenings, art, DJ sets, themed food and beverages, coffee (lots of coffee), meditation and much more.
Past Participants

Music
Robert Plant, St. Vincent, RZA, TV On The Radio, Bon Iver, Reggie Watts, TOKiMONSTA, The Kills, Flying Lotus, Katya, Laura Marling, Sharon Van Etten, Jon Hopkins, Sky Ferreira, Kaitlyn Aurelia Smith, Xiu Xiu, Rhye, and more.

Talks
David Lynch, Grace Jones, Francis Ford Coppola, Mel Brooks, John Malkovich, Bill Hader, Laura Dern, Kyle MacLachlan, Blondie, Frank Gehry, Ed Ruscha, Gregory Crewdson, Pete Holmes, Elvis Mitchell, and more.

DJs
Questlove, Shepard Fairey, Jason Bentley, Moby, Jeremy Sole, Zach Cowie and more.

Exhibitions
David Lynch, William Eggleston, Brian Eno's Reflection, Christian Louboutin, Within Virtual Reality, Chris Stein, David OReilly, Choreography by Ryan Heffington and more.
Selected Press
Los Angeles Times:
David Lynch talks about shaking up perceptions as his Festival of Disruption returns to Los Angeles (2018)
Yahoo:
David Lynch talks toxic masculinity and escaping the 'suffocating rubber clown suit of negativity' (2018)
Hollywood Reporter:
David Lynch's Festival of Disruption Disrupts Ace Hotel (2018)
Vice:
David Lynch Thinks Transcendental Meditation Is a Better Investment Than the Military (2018)
Los Angeles Times:
At David Lynch's Festival of Disruption, the filmmaker wants artists with 'knowledge and mystery' (2017)
Consequence of Sound:
David Lynch's Festival of Disruption 2017: The 10 Best Moments
Los Angeles Times:
A weird, lovely night at David Lynch's Festival of Disruption (2016)
Photos by Jacob Boll / Aga Maru / Yeah Field Trip.